What a roller coaster ride these past two years have been here at house number two! While I look at the pictures I am about to share with you and realize so much progress has been made in just two years, there could have been so much more done had it not been up in the air for quite some time about whether we would be moving again soon. We hadn't been here a year yet when rumors started about a Dollar General coming to the area – in our backyard. A company did soil tests in April 2020, and at that point, the boyfriend had decided we weren't staying here and would move. Another reason we moved from our first house was traffic noise. While it was on a back road, it was heavily trafficked. Being at a stop sign at that house didn't help because everyone felt the need to peel out and hog-dog it on the road. In the 10 years at house number one, I kid you not we probably saw at least 20 or more wrecks right there at our house, the last one taking out one of our crepe myrtles and some elaeagnus.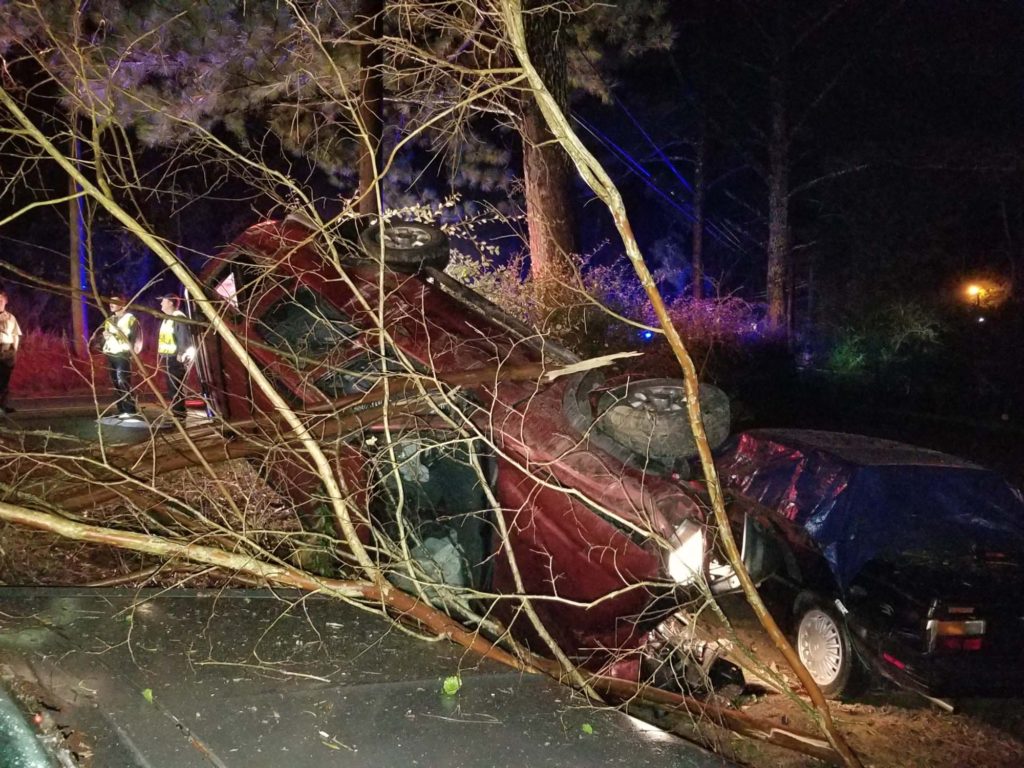 While we've been fortunate to have no vehicle accidents on or at our current property, the traffic noise is actually worse at this house. Much worse. At the end of December last year, they started clearing the lot behind our back yard to get the land excavated and ready for the building of the Dollar General, and that pretty much made up the boyfriend's mind that we were moving. By this time, I had resumed gardening projects since nothing had happened with the lot the prior 7 months. Our real estate agent told us to find a house and get a contract locked in before we listed our house because it was definitely a seller's market. The boyfriend scoured for house all over the eastern part of the U.S, and there were few houses for sale that fit what we needed and were looking for. And those houses would go under contract or be pending within hours of him sending me the links.
And so here we are, July 2021, still at the house with Dollar General having been completed and opened at the end of April. It is not as bad as we thought it would be (it's still fairly new though), but they started paving the main highway right after, and they are dumping the asphalt literally walking distance from our house. Just as the Dollar General area quietens down so things can return to 'normal,' we now hear the loud banging as the dump trucks unload the asphalt they are chewing up. They are still working on that 7-mile stretch of 4-lane highway to this day. Maybe one day we will get some peace and quiet at this house. And now there rumors of a chicken rendering plant coming to the area (within an 8-mile radius) if their first desirable location gets denied in the court case, so I don't know how long we will actually live here. I hate the constant "We are moving," and not knowing when/if that will happen. The thought of moving again so soon is depressing. I don't know what we did to have such bad karma, but I feel like we are getting punished at times for something we did at some point in our lives.
It makes my heart sad to know that I might have spent the past 2 years pouring my heart and soul into these areas and will not get to sit back and finally enjoy them. But I can't just sit by and do NOTHING outside with my gardening projects. If we end up moving within the next year or so, I don't think I'll have the spirit or passion to start over . . . yet again. We moved from house number one right as I was getting all my areas to where they would just need maintenance each year. And as you can see in the pictures I'm about to share, the biggest and hardest of the garden projects are now complete, so next season (or later this year when it cools off) I won't be on the verge of running myself to death with all the back-breaking work and sense of urgency I've had to complete some things the past two years.
Okay, enough about that! I know you are here to see some progress pictures, so let me start with what I am currently calling 'my large flower bed.' The first summer we were here (2019), I just put stuff where I could when we moved things from the first house. I wasn't about to leave all of my tables in my first greenhouse or the tables around the greenhouse and have them go to waste if the new owner had no plans to use them. I split the 4′ x 8′ tables in half to make a total of four 2′ x 8′ tables so I could put plants I'd moved onto them.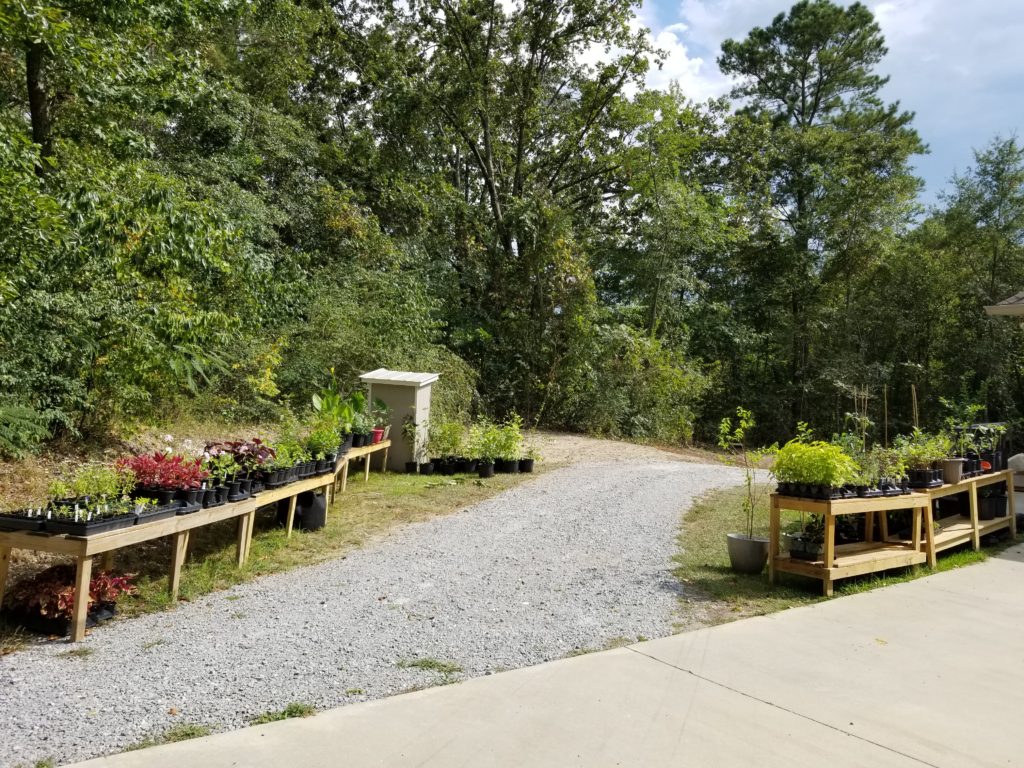 There have been many gardening challenges at this house, including the fact that it is on an embankment. As you can see in the picture above, the table legs are not even and are bent in some. I would later have to remove and replace those because of them staying this way for so long. Below are some pictures snapped throughout the past 2 years to show the progress made with my 'large flower bed' area.
And here is a look at the difference between December 2019 (since I didn't take a good 'before' of this particular area) and today.
This whole garden area still needs a little work. I haven't decided what edging to use in front of the gardenias and on around to the potted tropical hibiscus at the end. I thought about using the retaining wall blocks, but I don't think I will do that. I do need something to make the edging sharper and neater, but I will figure it out for next year. This works for now!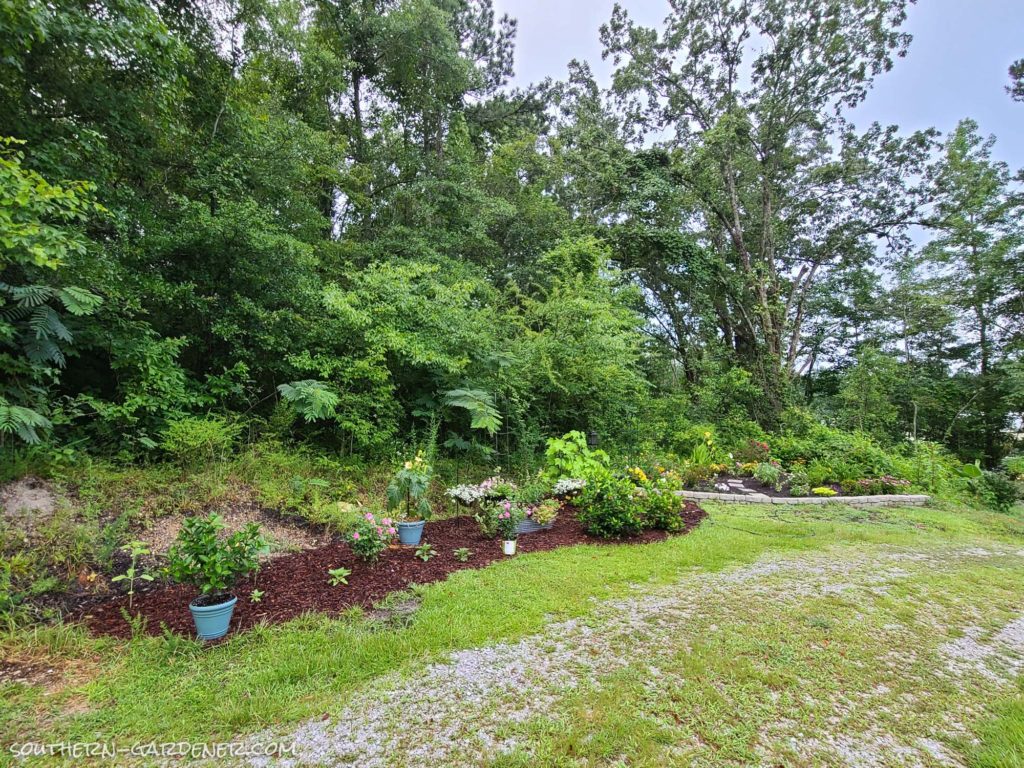 The next big area is my main gardening area which includes my greenhouse, the tired garden, and the surrounding area. I am working on names for my gardens so I can use those in tags on my blog. I took this 'before' picture about a week before we moved into the house, from our balcony.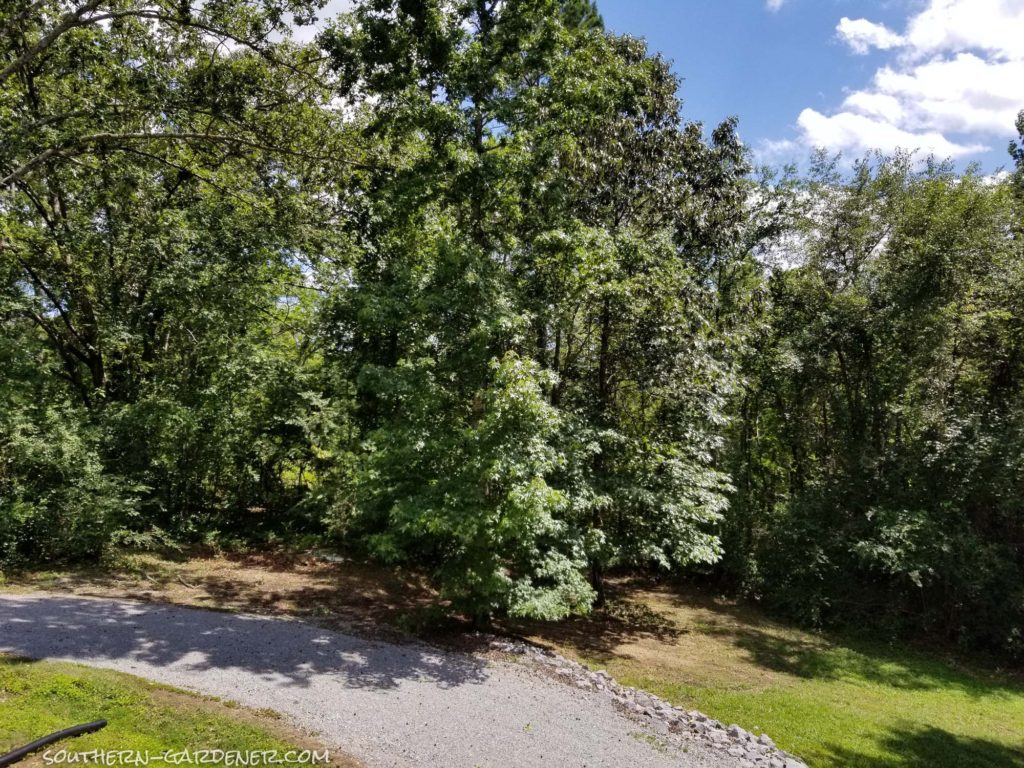 I did a lot of Google searches on hillside gardens and tiered gardens, looking through images to get ideas on what to do with this sloped area once the trees were cleared. The pictures below show the gradual progress made over the past 2 years of VERY hard work.
In addition to the long pause on outside projects because of not knowing if we will move, the winter of 2019/2020 was a very rainy one. It seemed to rain at least every other day, so it wasn't until June of last year before it was dry enough to haul in fill dirt to level off the lowest tier of the area. That pretty much held up finishing the tiered garden any sooner. Here's a good side-by-side comparison.
Next year I am hoping to add more raised beds to the lower area. I will be getting rid of the pots you see in the middle since they were just temporary for this year to add a little color to the bare spots. The whole lower tier is supposed to be the vegetable garden, while the tiered areas will be for flowers. Here's to hoping we don't move so I can enjoy all this hard work over the past 2 years!
Now that the biggest projects are out of the way, I am hoping to blog more about what I am doing and what I have done. I have been on such a frenzied path to get certain things finished, I realize I haven't posted a blog entry in almost two years. Starting from ground zero with absolutely no planting areas at this house has been overwhelming, but I am slowly getting there. Fingers crossed we don't up and move next year now!! Anyway, I would like to document more of what I'm doing because I already find that I come to my blog to search for things I've done in the past. It is helpful to me, and hopefully someone else reading it will find it helpful.