Once the walkway and small flower beds were finished for the greenhouse, it was time to map out the area and give it a little more definition in front.  I decided to section off certain areas with a no-dig edging I found at Lowe's.  LOVE not having to dig any for this.  Quick and easy!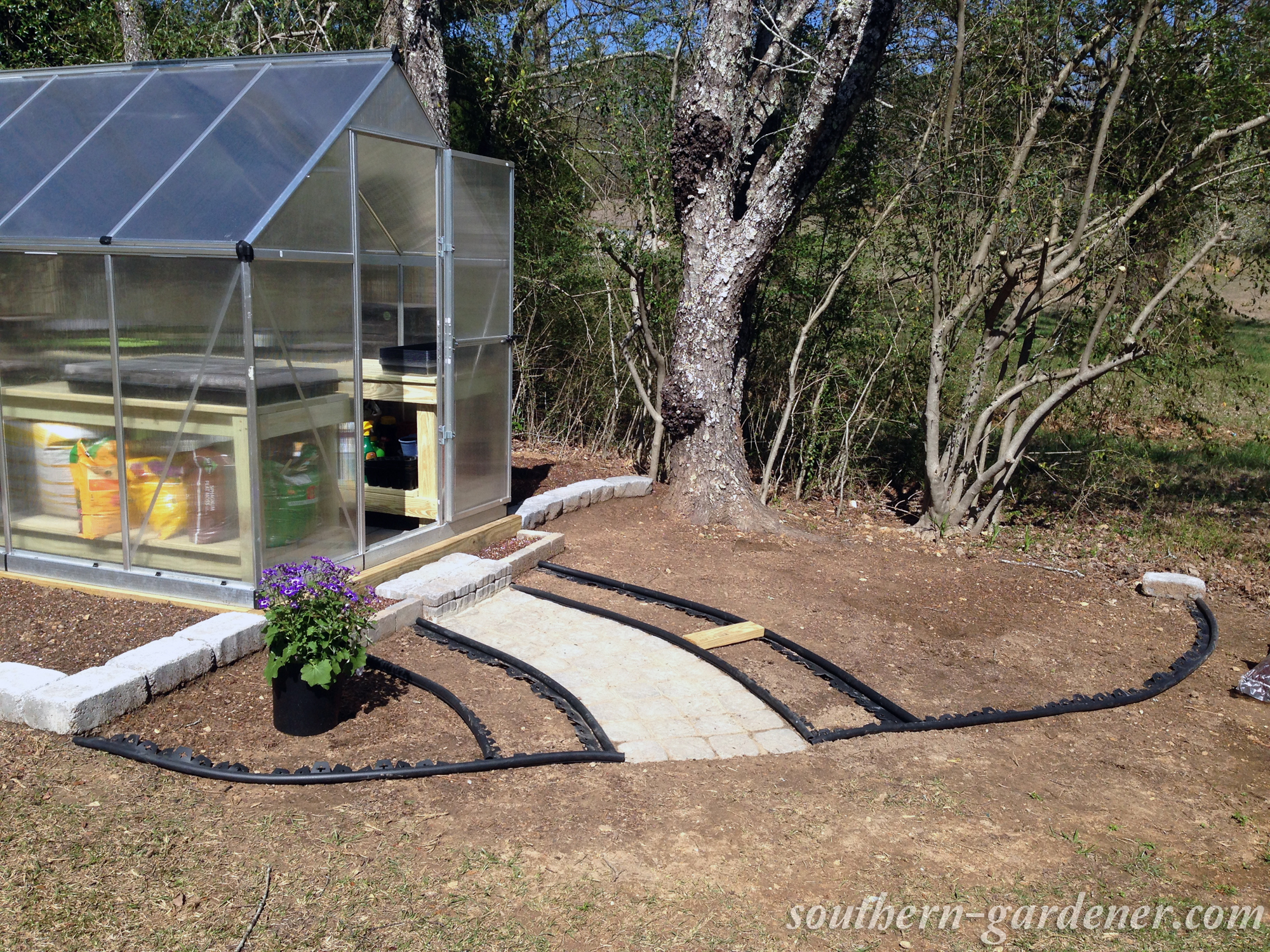 For the sections that are on each side of the walkway, I used a scrap piece of 2×4 that was about 12″ long to make both sections the same width, to hold some basic annuals that will line the walkway.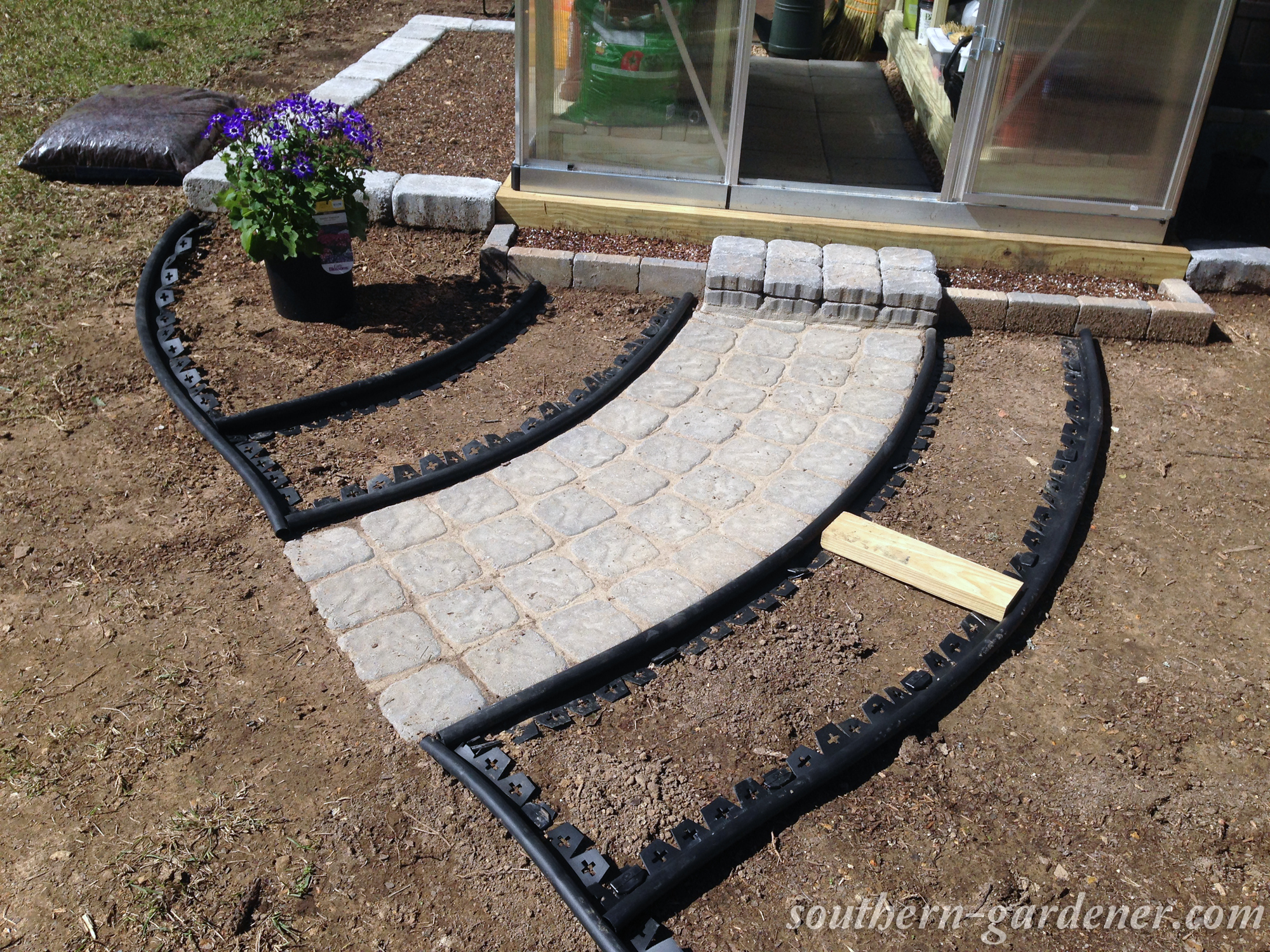 Then I filled in the areas with brown mulch, also using a white stepping stone we've had lying around elsewhere when we bought the house in 2009.  The stepping stone was placed there to allow me to get to the section that was going to have the harbor bench seating with climbing roses on each side.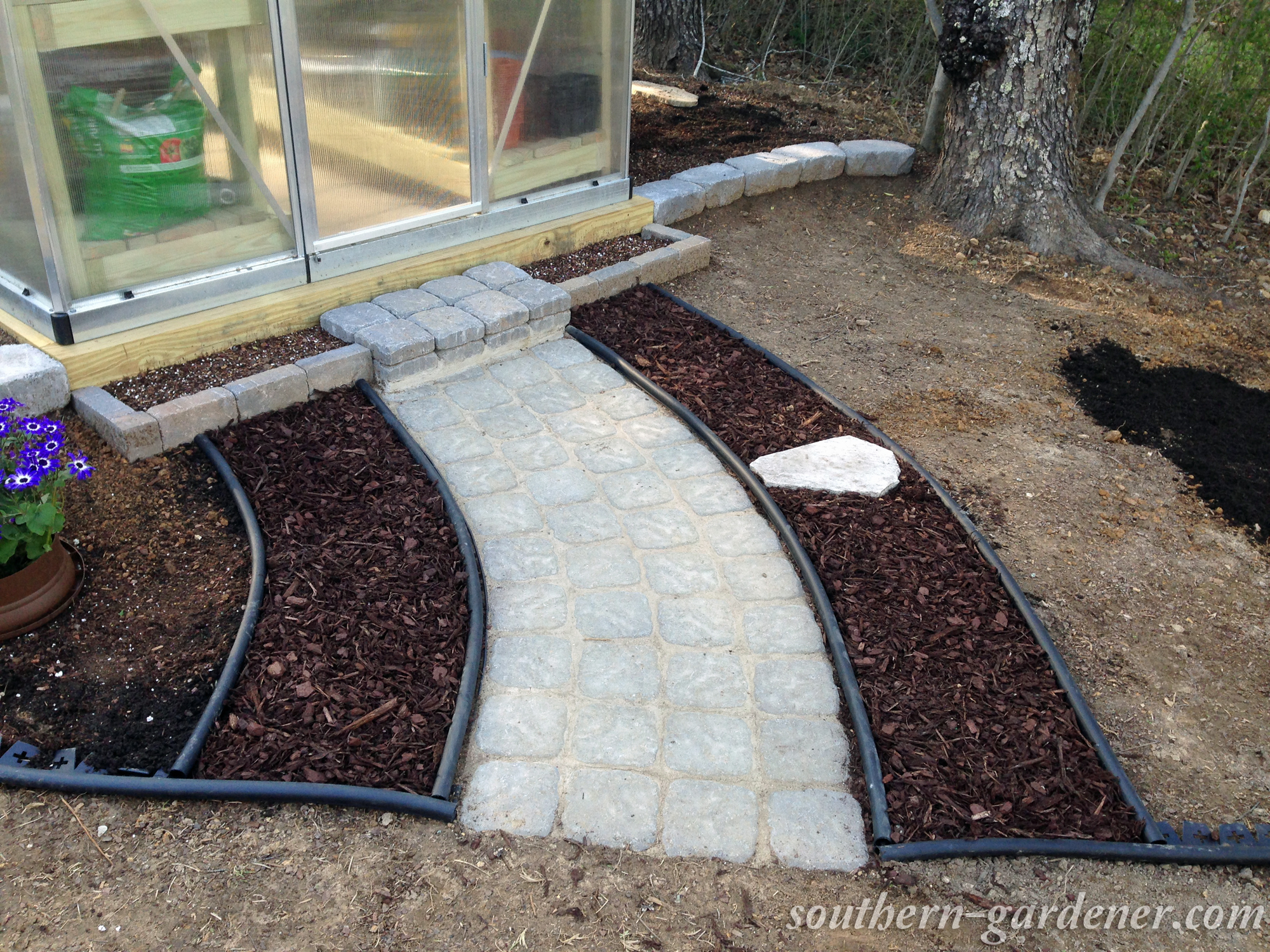 I planted this purple senetti (back in March) with mulch around the base, and then filled in the rest of this little corner with white marble rock.  Since it's July and I am just now getting around to posting this, I would like to add that I really wish I had put down a weed barrier underneath the white rock.  I will probably pick the rocks up later this year and put a weed barrier down.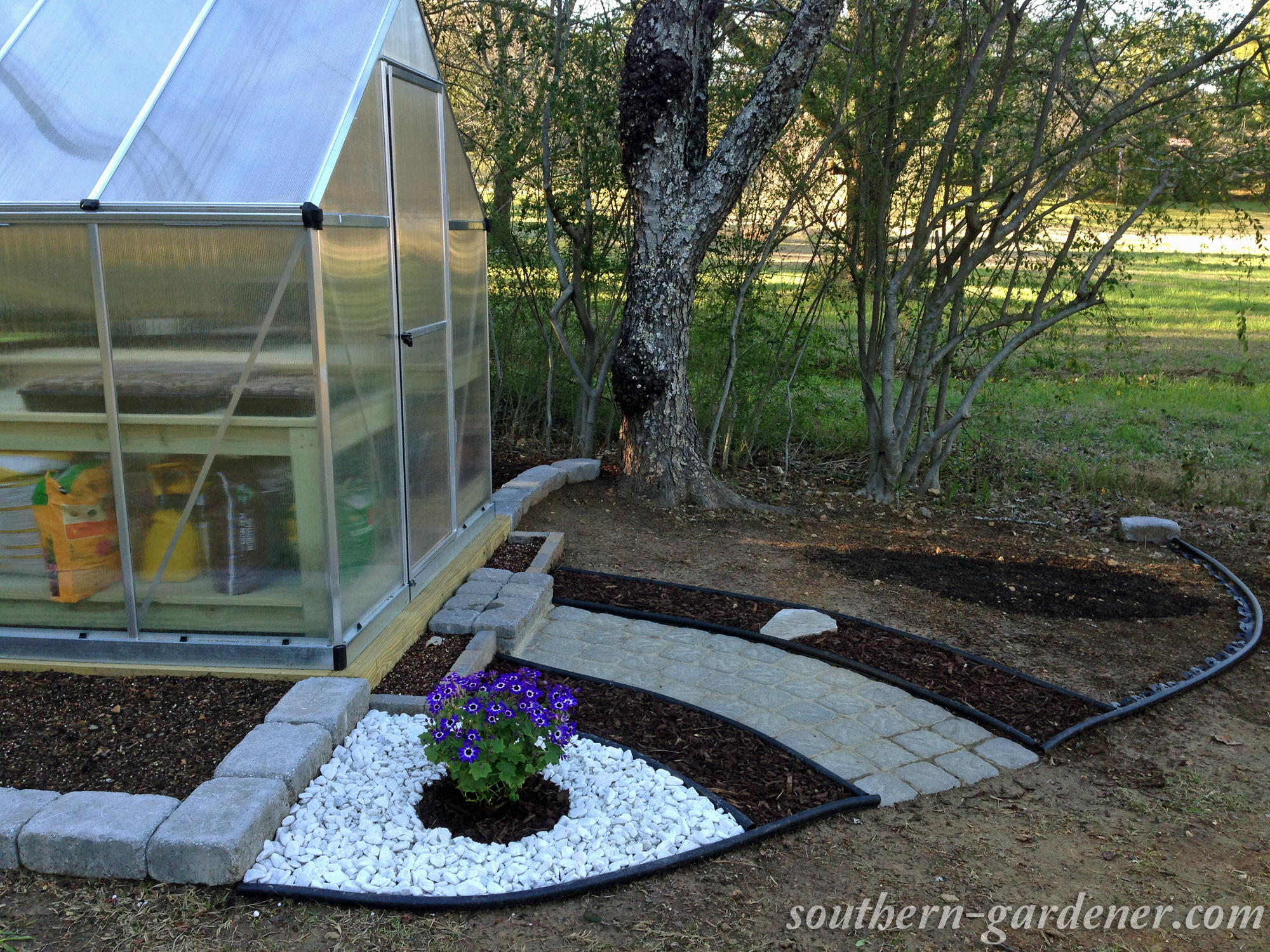 I was smart enough to put a weed barrier down on the other, larger section.  My original idea was to angle a DIY arbor bench seat somewhere in this section and have climbing roses.  The roses would be the only thing planted in this area, and I didn't want other erroneous weeds growing.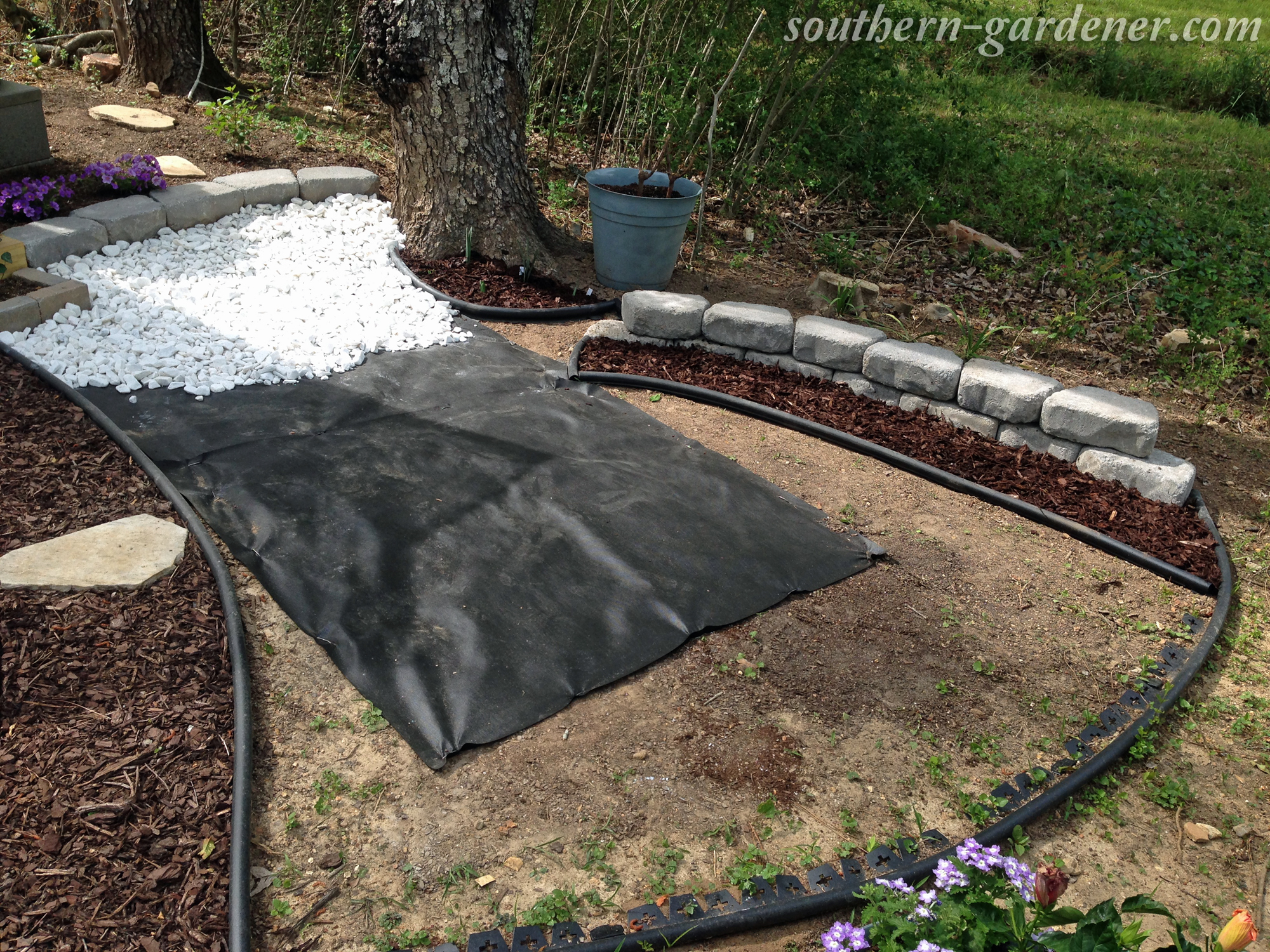 In the picture below, this little section isn't really finished yet.  I want to do a retaining wall (well, it would actually just be decorative since there is nothing to retain) about 2-3 feet high, topped with flat, square retaining wall caps.  I plan to sit 3-4 large baskets on top that will be attached to the top of the blocks so they do not get blown off.  But for now, this will suffice.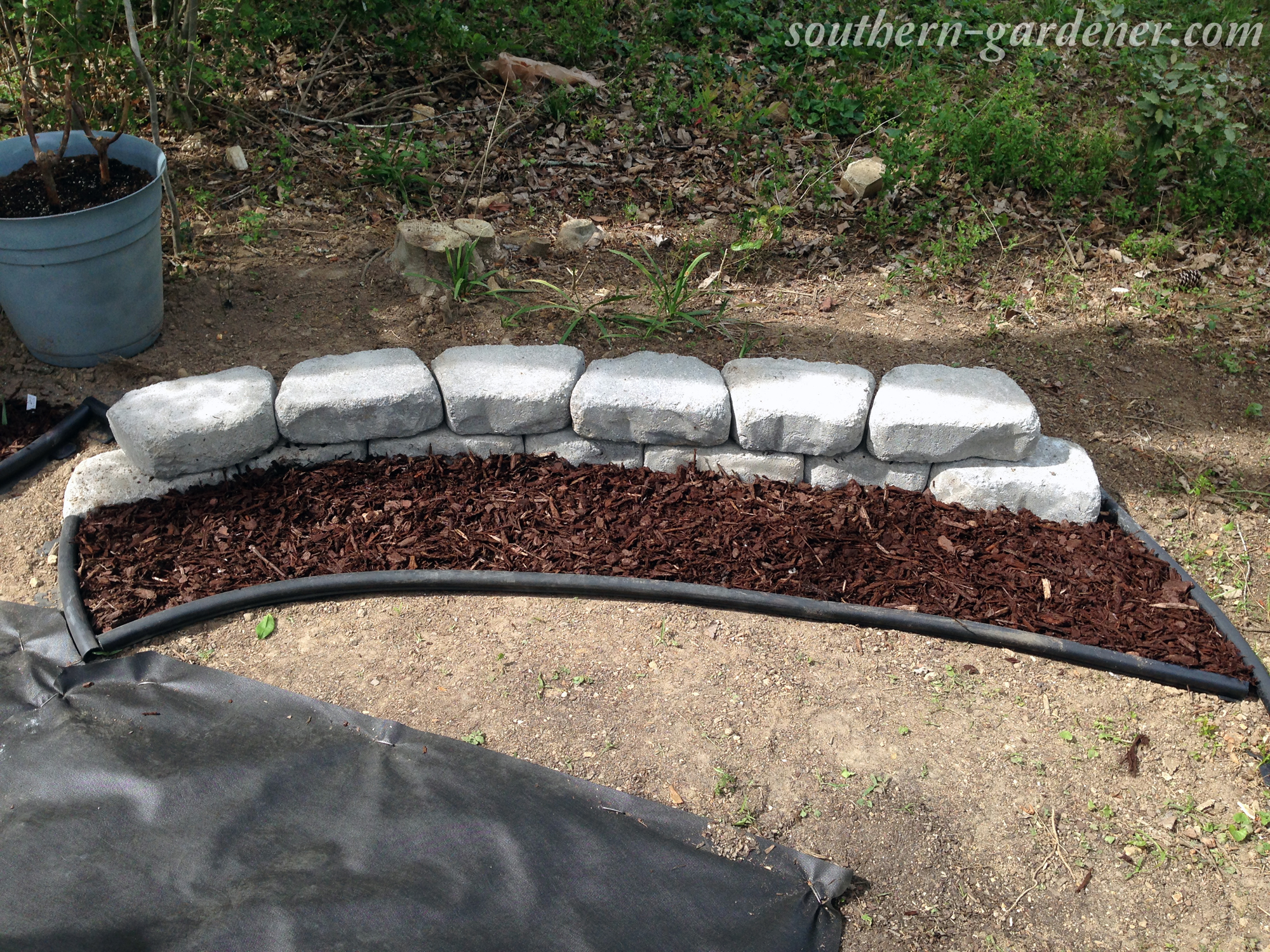 I decided not to do my arbor bench seat in this section.  I want to build it myself, so I will wait until later this year or sometime early next year to do that.  It will go on the back side of the greenhouse, in between the greenhouse and the corner of our property.  So I decided to do a fairly wide front flower bed area that I sectioned off with that wonderful no-dig edging.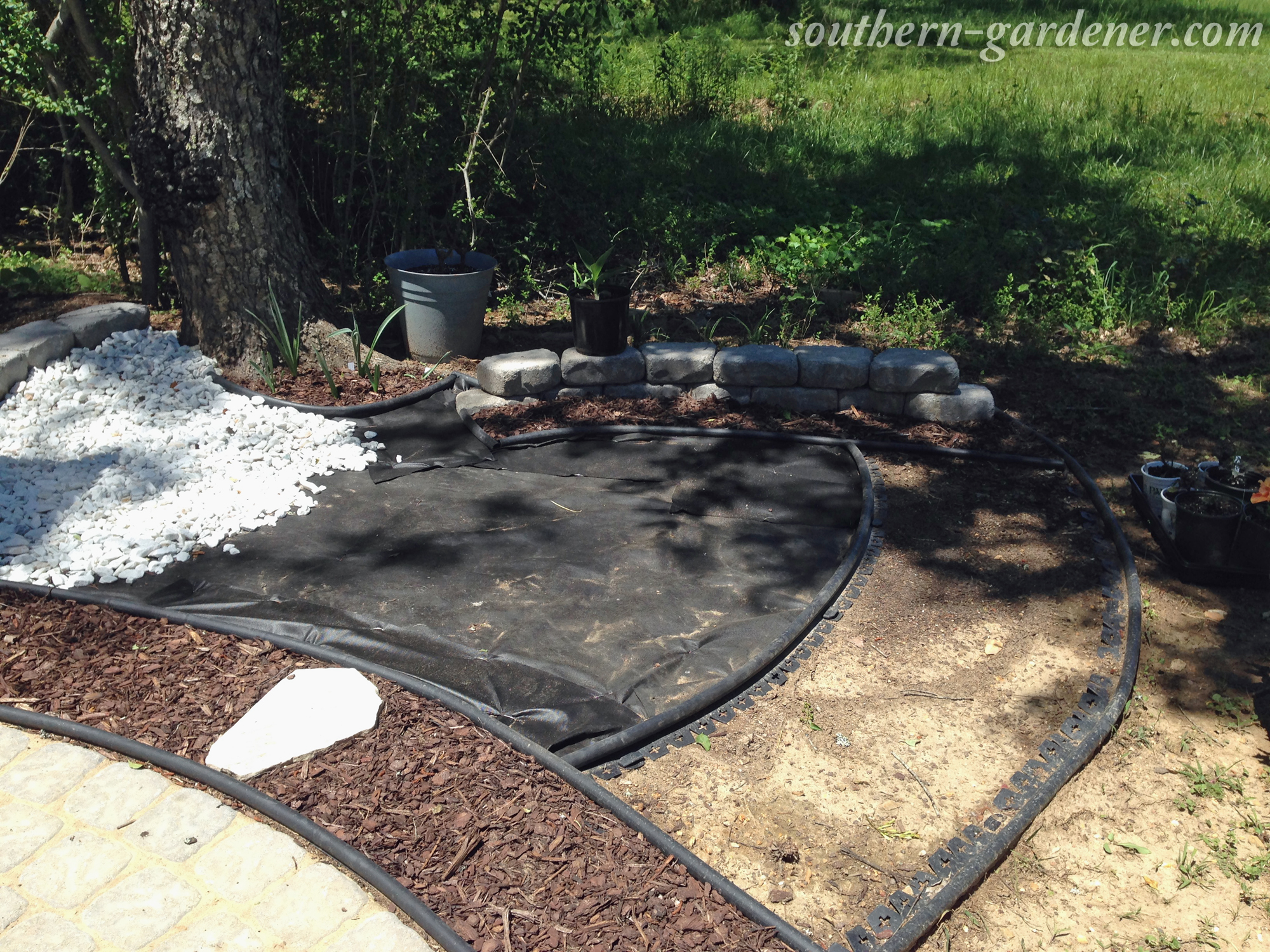 I'm not sure why this whole front flower bed area took me almost 2 months to complete.  The first picture I posted was snapped on March 9th, and the one below was taken on May 12th, when I finally got the rest of the white marble rock needed to fill in the section that would not have plants.  I also transplanted a lot of the greenhouse flowers: strawberry blonde marigolds to line the walkway; a Zoey Rey dahlia in front center of the wider flower bed; zebrina hollyhocks to flank the dahlia on each side; wishbone flowers in front of the retaining wall bricks; daffodils in front of the cherry wood tree.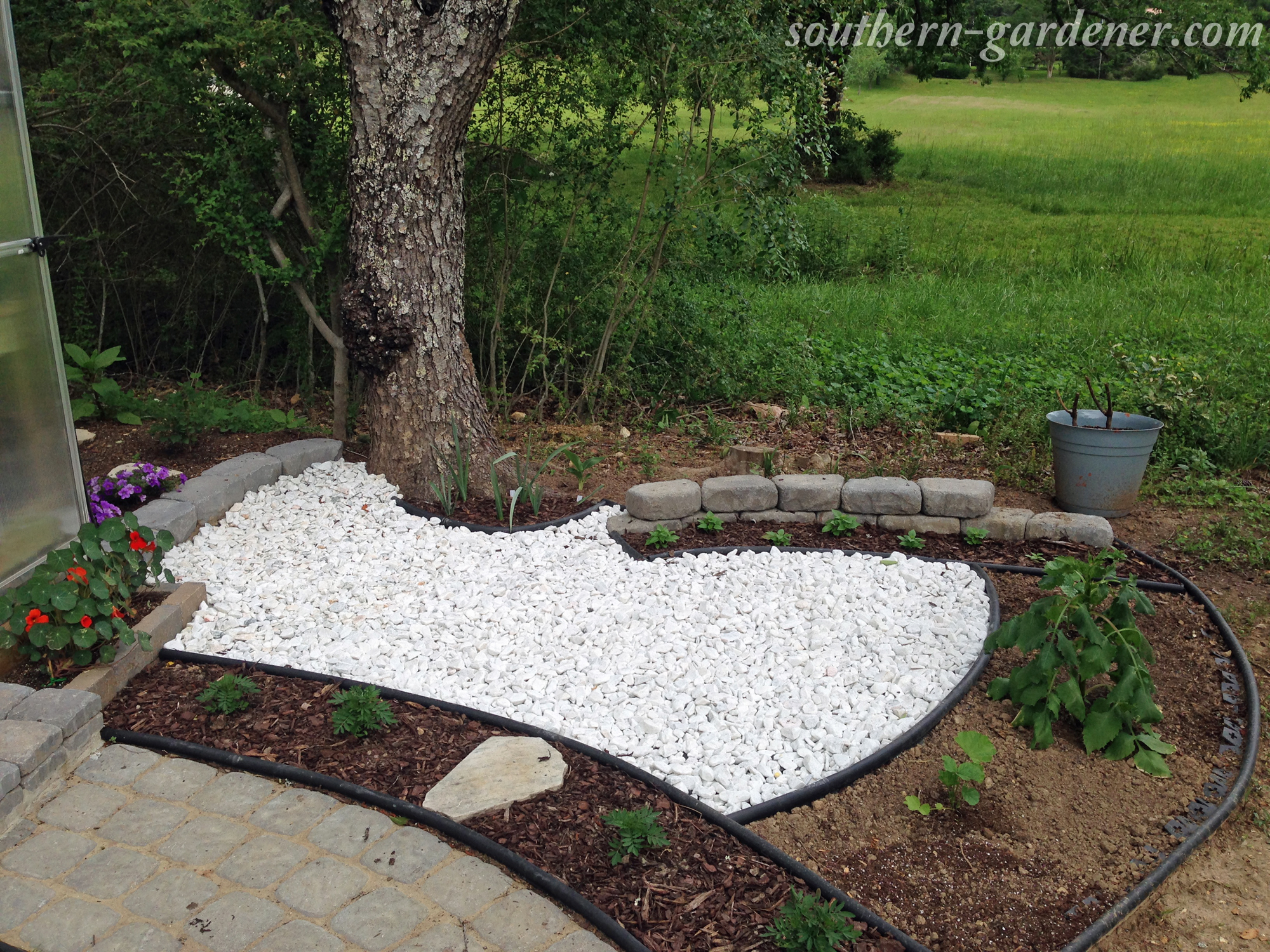 June 16th: everything has grown so nicely and filled in well.  The nasturtiums (in the small flower beds on each side of the door) are on their way out since it's pretty hot here in Alabama.  I've also lost 2 of my strawberry blonde marigolds, and I'm pretty sure it's due to ant issues in the ground.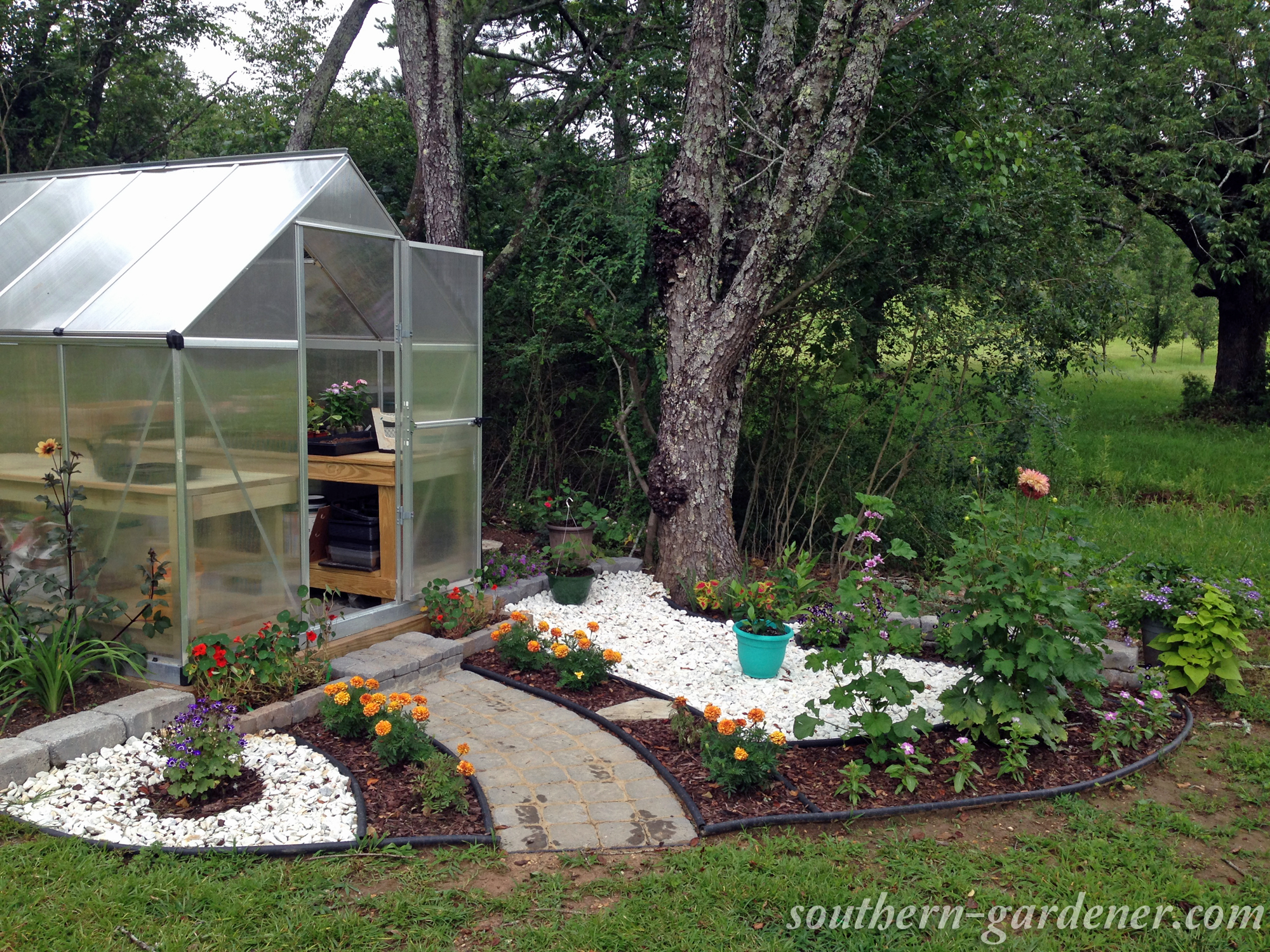 June 18th (in the front flowerbed): zebrina hollyhocks, Zoey Rey dahlia, with vinca "cotton candy mix" in the very front.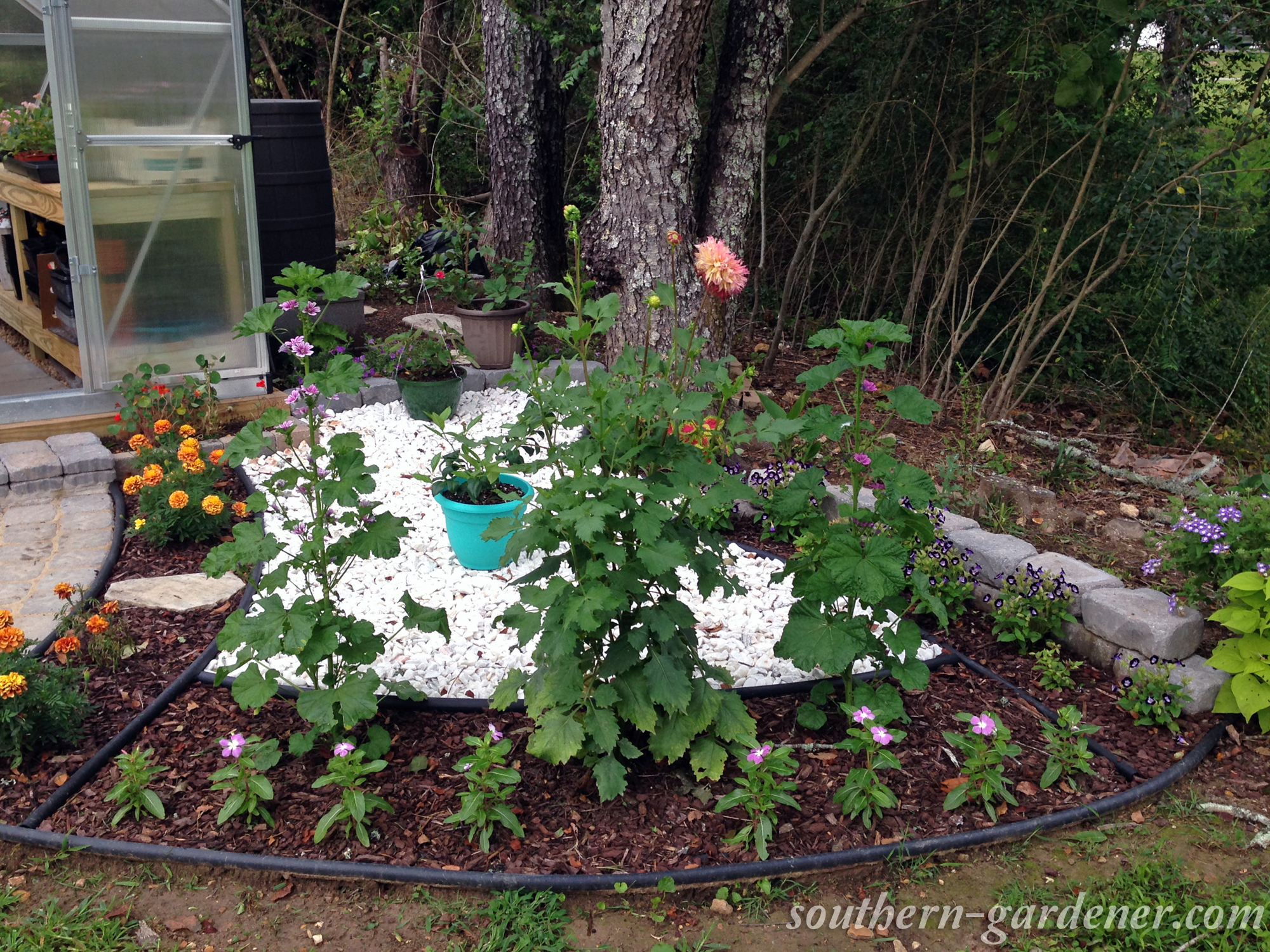 Save
Save